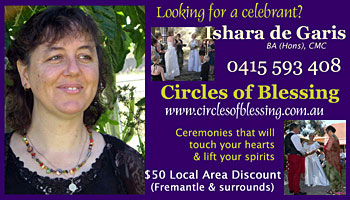 Circles of Blessing, your Marriage Celebrant in the Northern Suburbs of Perth WA
I HAVE MOVED TO MERRIWA!
Planning a wedding, hand-fasting or commitment ceremony with a civil celebrant? Looking for the marriage celebrant in Perth's northern suburbs who will be uniquely right for you?
Hi, I'm Ishara, and I could be the celebrant you want!
Specialising in personalised alternative & spiritual ceremonies.
I am also happy to provide a convenient local service in the Clarkson/Merriwa/Butler area for couples who want a civil marriage celebrant to help them get married simply.
Merriwa, Perth, Western Australia
Phone: 0415 593 408
Email: circlesofblessing@gmail.com