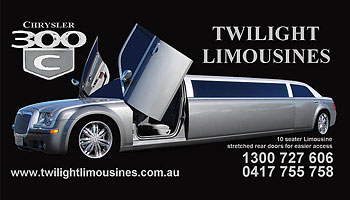 Covering Perth, Bunbury, Busselton, Margaret River and surrounding areas ABN 86 692 873 245
Twilight Limousines® takes a pride in committing a service second to none, paying close attention to detail, ensuring satisfaction Guaranteed!
Our Chrysler 300C Super Stretch 10-Seater Limousine demands attention. For all occasions be sure to receive a celebrity reception. Featuring fold-up 'Lambo Doors', 20″ Chrome Wheels, 4 giant plasma screens with digital TV, 2-tone silver/metallic grey paint upgrade and all the latest LED and fibre optic lighting, direct from the USA.
Address: 346, Byford, WA. 6122
Phone: 0417 755 758
Web: www.twilightlimousines.com.au